Hey everyone! It's Celebrating Musicals Week over at Yet Another Period Drama Blog. Sorry I'm a little late jumping on the bandwagon but... school. :) Better late then never though right? So, here are the tag questions to start us off:
1. What musical did you pick to "spotlight" this week and why?
After some consideration, I am choosing to spotlight the Sound of Music, because there is a rumor going around there is a remake in the making and it is one of the best musicals ever....so that's why. :)
2. How did you discover the musical you picked (hereinafter referred to as "your musical")?
Umm....I really have no idea. It seems I've always known about it, always seen it, and always been singing it. I remember falling asleep to the CD when I was little.
3. If you had to pick three favorite songs from your musical, which ones would they be?
"I am Sixteen, Going on Seventeen" because it's just so happy and sweet and adorable and I always want to be Liesl in that song. :) "The Sound of Music" and "Edelweiss" because who doesn't tear up when Christopher Plummer sings it before leaving his beloved home country?
4. What's your least favorite song from your musical?
I love them all... but I suppose my least favorite is "The Lonely Goatherd."
Yodeling
... Hmmm ;)
5. Who are your favorite characters (choose up to three)?
Maria, obviously; the Captain grew on me a lot..... and finally, Liesl. I've always loved Liesl.
6. Which versions of your musical have you seen/listened to, and which is your favorite?
I have only seen/ listened to one. But the best one IMHO. The movie version with Julie Andrews and Christopher Plummer.
7. Is this your favorite musical of all time? If not, what is?
Well, its ONE of my favorite musicals of all times.... I never seem to be able to make up my mind on a favorite musical.
8. Which cast album/musical soundtrack in your collection do you listen to the most?
My Fair Lady I listen to all the time. It's just so fun to sing!
9. What is your favorite costume from your musical?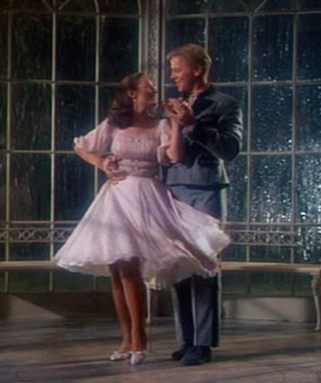 10. If you could change anything about your musical, what would you change?
Um, I've never really thought about it..... and now that I am I can't seem to think of anything. It'll take a while...
11. Which role(s) would you most like to play in
any
musical, if you had the opportunity to do so on stage?
Eliza Doolittle from My Fair Lady would be SO MUCH FUN! :D
Also, maybe Eponine? From Les Miserables. Her voice range is good, her songs are good, the musical is better than good, so that would be a TON of awesomeness.
12. If you could choose one performer to play any part in your musical, who would you choose and which part would you have them play?
Can we throw Aaron Tveit in there somewhere? Because I love him. Otherwise, it really is wonderful casting. I mean, Julie Andrews?
13. Do you consider yourself a musical theatre fan in general or do you just like a few musicals?
Somewhere in the middle, probably.
14. Are you tired of the word "musical" yet?
Not yet, ask me later. Haha
15. Turn your music playing device on shuffle (or utilize Pandora if you don't have one) and tell us the names of the first three show tunes that come up-- no cheating! How do these rank on your favorites/most-listened-to list?
My Fair Lady "Just You Wait" Which is one of the funniest songs to sing, especially in Eliza's cockney accent.
"Tell Me on a Sunday" which is a beautiful song from my The Hit Songs of Andrew Lloyd Weber album.
My Fair Lady "You Did it" which isn't my favorite from that album, but still a really good and important song from the musical.