So Rear Window was my first taste of the infamous Alfred Hitchcock. It was good, but.... not what I was expecting! What I mean is, I thought it would be more of a Agatha Christie or typical gangster or something... but it was everyday life, the whole movie took place from one room, and no murder or body was shown. No policeman really, either. Just Jimmy Stewart, the lovely Grace Kelly, and Thelma Ritter.
Photographer "Jeff" has broken his leg, and is stuck in his apartment for weeks. He takes to people watching... and believes his neighbor has murdered his invalid wife!
At first everyone discredits this. He didn't even see anything, really. But then his glamorous girlfriend, Lisa starts to think he may be right. But his detective friend Doyle discredits Jeff after a brief search for clues. So Jeff, Lisa, and Jeff's nurse Stella decide to solve this thing for themselves!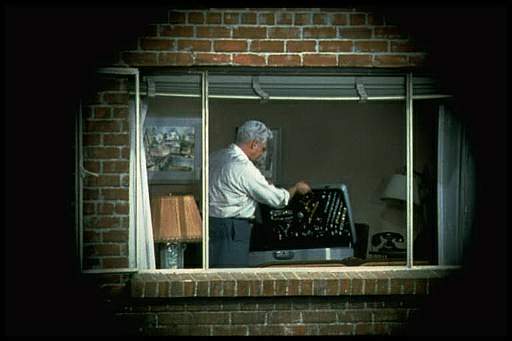 It is mostly suspense that makes this murder mystery, not wild chases or blood and gore. It is unlike any other movie I have ever seen. Most of it was just "people watching." They developed these neighbors so much! And we never actually "meet" any of them really; yet they each have their own little story.
I was especially interested in the lonely woman in the apartment across the way. I loved her ending. So perfect for her!
And Grace Kelly is a perfect, blonde haired, blue eyed, tiny waist-ed little doll! My goodness, her outfits were gorgeous! How she stays with Jeff when he is so dismissive.... he really doesn't deserve her! ;)
And the nurse made for a little humor. She was quite funny, without even meaning to be most of the time.
So overall, this movie was nice but a little slow. The suspense, however, makes up for the slowness at the beginning.